Luxury Wedding Cars
At Punjab Wedding Cars, our wedding cars are provided with fully trained friendly professional chauffeurs with vast experience in weddings to ensure a smooth, delightful experience. Our wedding chauffeurs make sure you arrive to the wedding venue ample time before it starts and also keep track of traffic reports. Our wedding cars are immaculately maintained so you can be assured of a high quality service when you book with us. We will make sure you receive a treatment worth for a princess and a prince on your wedding day.
Punjab Wedding Cars boasts of its largest fleet of cars especially luxury vehicles in the state of Punjab, India. You won''t have to worry about your wedding cars. Find out a wide choice of stretch limousines (Chrysler stretch limousine - silver colour, white Lincoln stretch limousine are available for hire) and other luxury sedan and SUV cars like Hummer H3 wedding car, Chrysler wedding car Audi wedding cars A4, Audi A6 and Q7, BMW 5 and 7 series and Mercedes Wedding Cars also Chrysler 300c Wedding Car for your special day or occasion and drive away with comfort and luxury. Jaguar XF and Jaguar XJL chauffeur driven cars also available as wedding cars. For wedding car hire services you can reach us directly.. @ 00918000000605
Stretch Limousines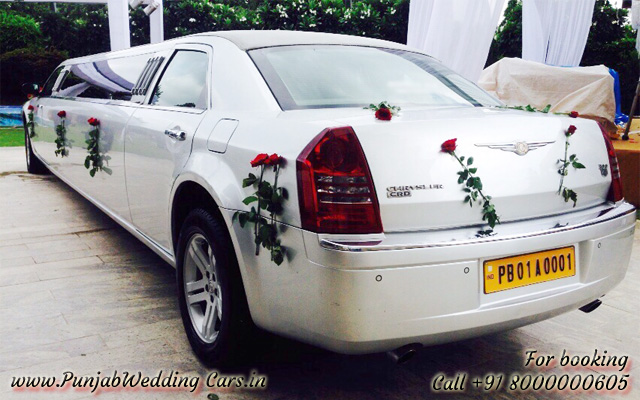 A limousine (or limo) is a luxury sedan or saloon car generally driven by a chauffeur and with a partition between the driver and the passenger compartment. Limousines often have a lengthened wheelbase.
It was originally an enclosed automobile with open driver's seat.[1] It is named after a type of cloak and hood that was worn by the inhabitants of the Limousin region that later resembled the covering of a carriage and much later used to describe an automobile body with a permanent top that extended over the open driver's compartment.
In modern use, a limousine is a luxury sedan or saloon car, especially one with a lengthened wheelbase or driven by a chauffeur. The chassis of a limousine may have been extended by the manufacturer or by an independent coachbuilder. These are called "stretch" limousines and are traditionally black or white. Limousines are usually liveried vehicles, driven by professional chauffeurs. As the most expensive form of automobile ground transportation, limousines are culturally associated with wealth or power and are commonly cited as examples of conspicuous consumption. Among the less wealthy, limousines are often hired during special events (most commonly weddings, proms, and bachelor parties).
Luxury Sedan Cars
Luxury sedan vehicles is a term for a vehicle that provides luxury — pleasant or desirable features beyond strict necessity. The term suggests a vehicle with higher quality equipment, better performance, more precise construction, comfort, higher design, technologically innovative modern, or features that convey an image, brand, status, or prestige, or any other 'discretionary' feature or combination of them. The term is also broad, highly variable and relative. It is a perceptual, conditional and subjective attribute that may be comprehended differently by different people; "what may be luxury for one may be premium for another".
SUV wedding Cars
The bold and rugged exterior lines accentuates its luxurious interior. Exceptional handling and a supple ride provides a relaxed drive. SUV cars are with a positive attitude that you will like. SUVs does not only offer style and charm but also be comfortable ride for family or parents on your wedding day. This 7 seater vehicle provides the highest degree of spaciousness and makes travelling comfort better than ever on the rear seats.
SUV cars are the most comfortable on the roads specially when you are in India, SUV gives you ultimate Comfort and take all your tiredness throughout your journey and keep your fresh for the day specially when you have to travel for many miles. SUVs are the most preffered cars to travel in Punjab. Choosing SUV wedding car for your special day is your one of the good choice.
Our Head turning SUV fleet is consisting of Hummer H3, Audi Q7 and Porsche Cayenne for your life turning days like weddings or for your parties. To choose your Preffered SUV call or visit us directly. We are promised to serve